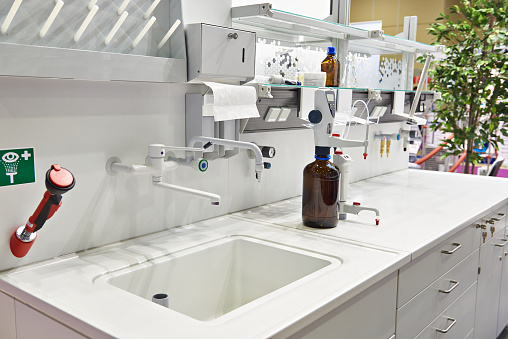 "What are the different water quality types?"
The types of water available in the lab differ from lab to lab, but often include these following types,

City water – This is the water straight from municipal pipes, as you would receive in your home if you do not have a secondary purification system. Ion levels vary from day to day.
Soft water – This is city water which has gone through a filtration system to remove calcium and magnesium ions. This gives a more regulated water quality and does not leave as much lime-scale.
Demineralized (Demi/DI) water – This is soft water that has gone through ion exchange or electrodeionization to remove all ions.
Ultrapure (Milli-Q) water – This is Demi water that has undergone further purification through a reverse osmosis machine, often including UV irradiation. It has a resistivity of 18.2 MΩ.cm, TOC <10 ppb and bacterial count <10 CFU/ml.

Each successive purified water type requires significantly more water, more energy and more equipment and consumables to produce. A litre of Demi-water takes 3 litres of city water to produce. Many lab test methods and manufacturing operations ask for a specific water quality to ensure repeatability, safety, and good equipment maintenance. However, it is worth taking the time to analyze the operations in detail and understand why a lower quality water will not suffice.

In our research lab audits, we often see researchers washing their glassware with DI water and even ultrapure water unnecessarily. Generally, soft water, or even city water is sufficient for washing labware. A quick rise at the end with DI water can provide peace of mind. Most lab operations can be done with DI water and ultrapure water should be reserved for the most sensitive experiments, like dynamic surface tension. If you are going to autoclave the water for biology work, say for making bacterial media, assess your experiment carefully to determine if extra ions are really going to change your outcome.

In our industrial audits, we have also seen cases where a higher water quality is requested (e.g. DI water instead of soft water, or soft water instead of city water) due to an erroneous belief that the higher purity water has fewer microbes or lower micro-susceptibility. In such cases, it's better to use clean design, better cleaning & sanitization procedures and good lab/manufacturing practices. Often manufacturing specification limits (tolerances) are large enough to absorb the normal ion variations in city water. It is a bit of give-and-take and it may be more sustainable to look into the quality of the other raw materials or the process control strategies to keep your product in spec.